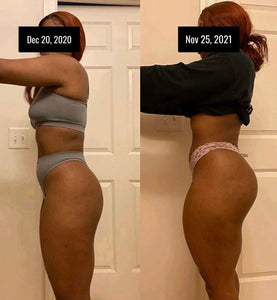 NO REFUNDS/EXCHANGES.
This is a 6 week full body guide for those who want to gain weight, especially in their lower extremities. A gym is required.
This plan includes:
6 week gym program
5 day exercise schedule 
Nutritional guide
Meal ideas
Supplements
Grocery list
Warm ups/stretching 
Soreness tips
Useful information/tips
Video demonstrations for exercises with a private link
Types of exercise: HIIT cardio, bodyweight exercises, and weight lifting.
Equipment needed:
Barbell
Smith machine
Leg press
Cable machine
Treadmill 
Lat pull down
Abductor machine
Leg curl machine
Resistance band
Kettlebell
Bench
Dumbbells
I do not suggest particular weights to use due to everyone having a different comfort level. Pick weights that you are comfortable with, but also challenge you. 
PLEASE MAKE SURE YOU PUT IN YOUR EMAIL OR YOU WILL NOT RECEIVE YOUR GUIDE. 
** YOU WILL ONLY HAVE 5 FREE ATTEMPTS TO DOWNLOAD YOUR GUIDE. 
** YOU WILL NEED TO DOWNLOAD THE PROVIDED LINK WITHIN A WEEK OR IT WILL EXPIRE.
Refunds/Exchanges:
There are no refunds or exchanges for these products as they get sent immediately to the customers email.
DISCLAIMER:
Urbvnfit does not hold any medical title to ensure results to each individual as it greatly depends on genetics and health. This guide is used for educational purposes only, I advise you to consult with your physician before starting this program to ensure you are given the okay to begin.