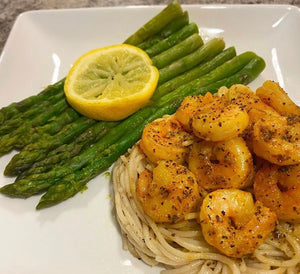 This is a 2 week meal guide that will help individuals transition into a pescatarian lifestyle. A pescatarian diet is where seafood is the main protein source, while consuming majority fruits, whole grains, vegetables, legumes, and healthy fats. This diet does not allow animal flesh consumption. This guide can be used for anyone looking to lose weight or gain weight (Information included on how to do each).

This guide includes:

Grocery list

4 detailed recipes per day

Nutrition information

Useful Tips
Equipment needed:

 PLEASE MAKE SURE YOU PUT IN YOUR EMAIL OR YOU WILL NOT RECEIVE YOUR GUIDE. 
** YOU WILL ONLY HAVE 3 ATTEMPTS TO DOWNLOAD YOUR GUIDE. 
** YOU WILL NEED TO DOWNLOAD THE PROVIDED LINK WITHIN A WEEK OR IT WILL EXPIRE.
Refunds/Exchanges:
There are no refunds or exchanges for these products as they get sent immediately to the customers email.
DISCLAIMER:
Urbvnfit does not hold any medical title to ensure results to each individual as it greatly depends on genetics and health. This guide is used for educational purposes only, I advise you to consult with your physician before starting this program to ensure you are given the okay to begin.