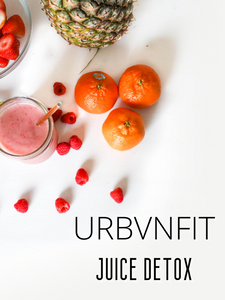 NO REFUNDS/EXCHANGES.
This is a 3 day juice detox to help promote toxin elimination in order to restore the body, improve overall health, reduce bloating, and reduce digestive issues. This is a great way to start off your fitness and health journey! This guide is not aided to cure or treat any diseases.
Included:
6 juice recipes per day with listed ingredients. Ingredients are all vegan: Fruits, vegetables, and omega-3 concentrated seeds
Detox information + symptoms 
Grocery list
Useful tips while detoxing
 Equipment needed:
Juicer

OR

blender with filter 
 PLEASE MAKE SURE YOU PUT IN YOUR EMAIL OR YOU WILL NOT RECEIVE YOUR GUIDE. 
** YOU WILL ONLY HAVE 3 ATTEMPTS TO DOWNLOAD YOUR GUIDE. 
** YOU WILL NEED TO DOWNLOAD THE PROVIDED LINK WITHIN A WEEK OR IT WILL EXPIRE.
Refunds/Exchanges:
There are no refunds or exchanges for these products as they get sent immediately to the customers email.
DISCLAIMER:
Urbvnfit does not hold any medical title to ensure results to each individual as it greatly depends on genetics and health. This plan is for educational purposes only; results may vary. If you obtain or think you may have any health issues please consult with a physician before beginning any program of Urbvnfit.