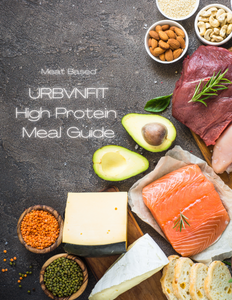 NO REFUNDS/EXCHANGES.
The thing that may be holding you back from achieving your goal body, is adequate PROTEIN. Protein is the building block for muscle and strength. The things that can take you from a level 4.. to a level 10.
Struggle finding delicious meals that align with your health and fitness goals? Try this guide out. 
This guide includes:
-Nutritional info + Tips to be successful
-Grocery list
-Calorie/Macro info + Eat for your body type
-10 High protein breakfast recipes
-10 High protein lunch recipes
-10 High protein dinner recipes
-20+ High protein/fiber snacks